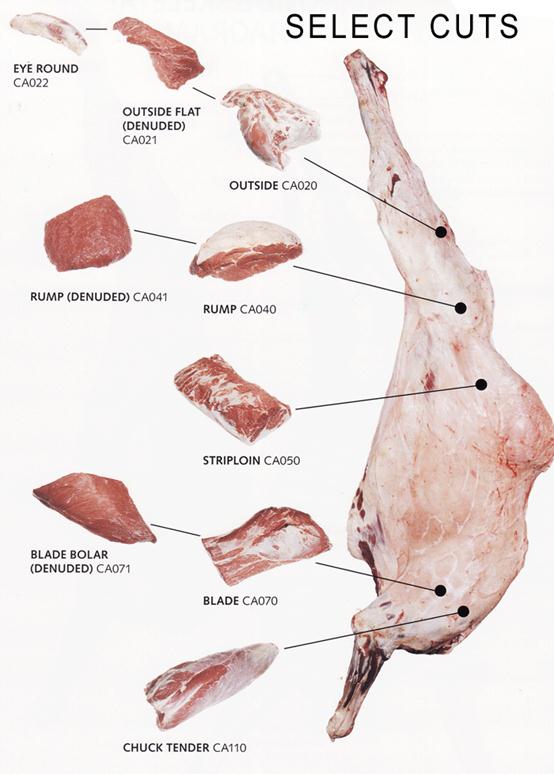 We are pleased to announce a Joint Venture with a major Australian producer/exporter of meat products. Beef, lamb, goat & camel.
HALAL KILLED PRODUCTS - We offer Halal certified meat products, that has only been slaughtered by registered Muslim slaughter men in accordance with Islamic religious rulings.
ORIGINS OF OUR PRODUCTS:
Standard & Partners source a wide range of cattle form the best cattle producers in Australia to ensure we meet the precise requirements of each product specification.
These include:
Wagyu cross, Angus, Murray Grey, Hereford and other Major European & British breeds for premium grain fed products
Chilled grain fed beef from long fed, middle fed and short fed cattle
EU certified cattle for high quality chilled beef for EU markets
Cattle from certified organic beef producers for high quality organic beef markets
High quality chilled free range beef
Our Australian meat products can be exported to any destination globally, pricing available upon request on FOB and CFR Basis. Our products can be airfreighted in AVE or pallets or in refrigerated containers (20' / 40') via certificate temperature controlled environment, chilled or frozen.
Please contact our trade desk: This email address is being protected from spambots. You need JavaScript enabled to view it.
BEEF PRODUCTS 牛肉
Shoulder
Shank
| | | |
| --- | --- | --- |
| | | |
| Fore shank (bone-in) | Fore Shin Conical | |
Neck
| | | |
| --- | --- | --- |
| | | |
| Neck | Neck Chain | |
Chuck
| | | |
| --- | --- | --- |
| | | |
| Square cut chuck - 5 Rib | Chuck roll: cap-on - 5 Rib | Chuck Eye Roll - 5 Rib |
| | | |
| Chuck Tender | | |
Blade
| | | |
| --- | --- | --- |
| | | |
| Blade (Clod) | Bolar Blade | Oyster blade |
Brisket
| | | |
| --- | --- | --- |
| | | |
| Brisket Point End | Brisket Point End - deckle off | Brisket Point end Pectoral (Razor Trim) |
| | | |
| Brisket Navel end | | |
MIDDLE
Loin
| | | |
| --- | --- | --- |
| | | |
| Short loin | Shell-loin (bone-in) | Strip loin: Standard |
| | | |
| Strip loin: Chain muscle, silver skin off, steak ready | Portioned Strip loin Steaks | Tenderloin: Side muscle-on |
| | | |
| Tenderloin: Side muscle-off | Portioned Tenderloin Steaks | Butt Tenderloin |
Flank
| | | |
| --- | --- | --- |
| | | |
| Thin Flank | Flank Steak | Internal Flank Plate |
| | | |
| Flap Meat | | |
Rib/Roll









7 Rib Set

Ribs Prepared

Ribs Prepared - Frenched










Spencer Roll - 7 Rib

Cube Roll - 7 Rib Lip-on

Cube roll/Rib eye roll










Portioned Cube roll/Rib eye roll Steaks

Short Ribs

Portioned Short Ribs (L.A. Ribs)










Spare Ribs (Back ribs)

Intercostals (Rib fingers)

Short rib meat
LEG/OTHER
Round
| | | |
| --- | --- | --- |
| | | |
| Eye Round | Eye Round 100VL | Inside |
| | | |
| Inside Cap off - trimmed to the 'blue' | Inside Cap off 100VL | Topside |
| | | |
| Outside | | |
Flat
| | | |
| --- | --- | --- |
| | | |
| Flat | Flat 100VL | |
Knuckle
| | | |
| --- | --- | --- |
| | | |
| Thick Flank | Knuckle | Knuckle Cover |
| | | |
| Eye of Knuckle | | |
Rump
| | | |
| --- | --- | --- |
| | | |
| Sirloin Butt | D-Rump | Tri-tip |
| | | |
| Rostbiff (Rump heart) | Rump Cap - Denuded | Eye of Rump |
| | | |
| Rump Centre | | |
Shank
| | | |
| --- | --- | --- |
| | | |
| Shank Meat | | |
OFFAL
| | | |
| --- | --- | --- |
| | | |
| Heart: cap-on | Heart: cap-off | Spleen |
| | | |
| | | |
| Liver | Sweetbread | Tongue - Swiss cut |
| | | |
| Tongue roots | Tongue root fillets | Tongue root trim |
| | | |
| Lungs | Kidney | Thin skirt |
| | | |
| Thick skirt | Cheek: papillae-on | Cheek: papillae-off |
| | | |
| Diaphragm membrane | Headmeat | Weasand |
| | | |
| Green tripe, honeycomb and rumen | Pizzles | Aorta |
| | | |
| Achilles plus hind tendon | Paddywack | Tail |
| | | |
| Tripe mountain chain | Trachea | Lips: cheeks removed |
LAMB 羊肉
SHOULDER
Shank
| | | |
| --- | --- | --- |
| | | |
| Fore shank - Knuckle tip-off | | |
Neck
| | | |
| --- | --- | --- |
| | | |
| Neck Slices | Neck Fillet | |
Shoulder
| | | |
| --- | --- | --- |
| | | |
| Short forequarter (breast off) | Short forequarter (breast on) | Square cut shoulder |
| | | |
| Shoulder Frenched Rack | Banjo Shoulder | Oyster cut shoulder |
| | | |
| Boneless rolled netted shoulder | | |
MIDDLE
Rib/Loin
| | | |
| --- | --- | --- |
| | | |
| 8 Rib long loin chump-off 25mm | 7 Rib Rack | Rack - fully frenched |
| | /td> | |
| Loin chop & Rack chop | 8 Rib chump-off saddle 75mm | 7 Rib rack saddle |
| | | |
| Sadddle Chops | Boneless loin | Tenderloin, side muscle off, butt-off |
Flap
| | | |
| --- | --- | --- |
| | | |
| Boneless flap | Flap (bone-in) | Breast |
LEG/OTHER
Leg
| | | |
| --- | --- | --- |
| | | |
| Easy carve leg or Carvery leg | Long Leg Bone -in | Short cut leg, bone-in, chump-off |
| | | |
| Part boned leg, chump-off, shank-on, aitch bone removed | Boneless leg, chump-on, shank-off | Femur bone or Part boned leg, chump-off, shank-off |
Chump
| | | |
| --- | --- | --- |
| | | |
| Chump (bone-in) | Boneless Chump | |
Shank
| | | |
| --- | --- | --- |
| | | |
| Hind shank | Lamb shanks - Frenched | |
OFFAL
| | | |
| --- | --- | --- |
| | | |
| Tongue: Swiss cut | Brain | Sweetbread |
| | | |
| Heart | Liver | Kidney |
| | | |
| Spleen | Thin skirt | Thick skirt |
| | | |
| Tripe | Testicles | |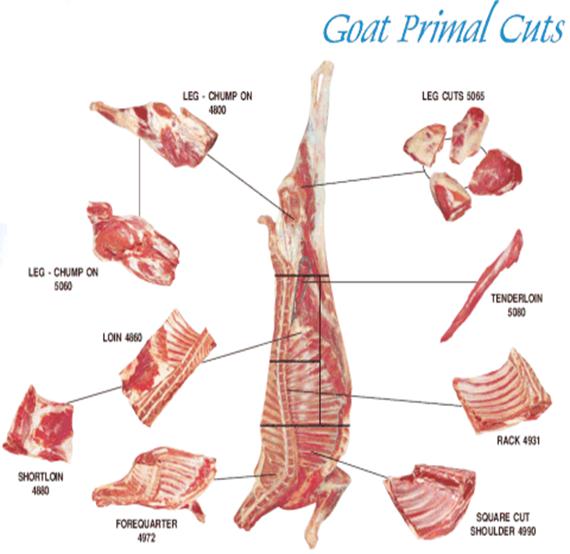 CAMEL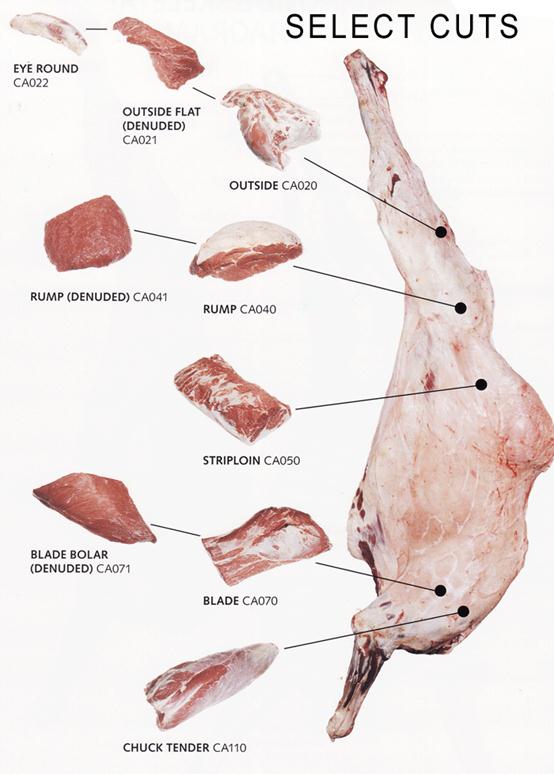 Enquiries: This email address is being protected from spambots. You need JavaScript enabled to view it.